Breakdown of Sponsorship Expenditure
How is your sponsorship dollar spent? For starters, a very small portion of your sponsorship goes to PayPal for processing your payments (approximately 2.4% + 30 cents). As a volunteer-run organisation, we see this as a small price to pay for providing you with security and convenience for your payments.
100% of the remainder of your sponsorship dollars goes directly towards Kitenden Preschool operations. Your sponsorship covers the equivalent cost of sending one child to preschool and providing two healthy meals a day. There are no big management costs to cover, no office expenses, no expensive salaries. Just pure project, and big difference to the health and future education opportunities for each child.
A breakdown of preschool expenditure is as follows: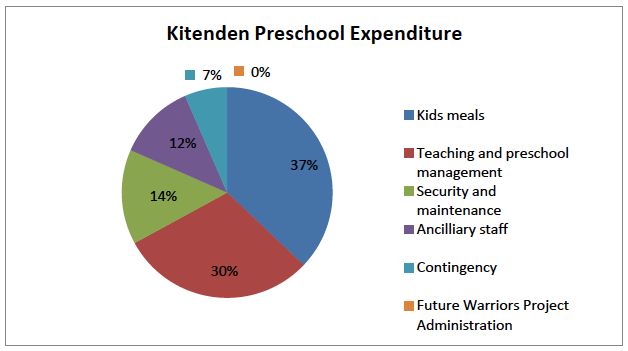 Should it arise that we have excess funding (this may happen due to a favourable exchange rate, favourable food prices, or fewer contingencies than anticipated), it will be spent either on the children's health and wellbeing, enhancing the facilities and resources of the preschool, or enabling additional children to attend the preschool.
Online Payment Management
Our website utilises PayPal, a trusted leader in e-commerce, for all online donations. When you initially sponsor a child, you will be redirected automatically from our site to the PayPal website when it comes time to enter your financial information. You can either use an existing PayPal account or you can create a new one. You may then choose to pay monthly by credit card or by bank transfer. Each month, PayPal will automatically charge your card or deduct from your bank account the monthly sponsorship. You will receive an email notification from PayPal when this occurs. If you have opted for monthly sponsorship, you will be charged on approximately the same day of the month as the day you started your sponsorship.
Are contributions to Future Warrior Project Child Sponsorship tax-deductible?
Future Warriors Project is a registered charity in Australia (Queensland) but does not hold tax-deductibility status with the Australian Tax Office or equivalent institutions in other countries, so you are not able to claim your sponsorship on your tax return. We appreciate your support for a young organisation that is run by committed volunteers, which means your support goes directly to projects and not on administrative overheads.
Privacy Information
Your contact details are collected through your sponsorship subscription through PayPal and we are required through our terms of agreement with PayPal to only contact you only in relation to your sponsorship.
How do I cancel my sponsorship?
If you wish to cancel your sponsorship, you can cancel through your PayPal account, or send us an email letting us know and we can manage this for you. Cancelling through PayPal will be immediate, whereas we may need up to 10 business days to cancel a sponsorship on your behalf (although we will endeavour to do this faster if possible).
Thank you so much for enquiring into our sponsorship management!
Please feel free to contact us if you have further questions.